Add students to your class
This is only relevant to Connect classes. Learn more
___
There are three ways students can be added to your class:
1. Import from Google Classroom or Microsoft Teams
Click 'Import class' from the Classes page.
Select Google or Microsoft and follow the prompts.
More information on our integrations with Google Classroom and Microsoft Teams here.
2. Students self onboarding via Connect class code
Students are able to self on board by visiting the Ziplet website, clicking the Sign up button and following the instructions. Teachers should provide students with the relevant class code which students can then enter once they are registered.
Note: Click on the class code to show student instructions for joining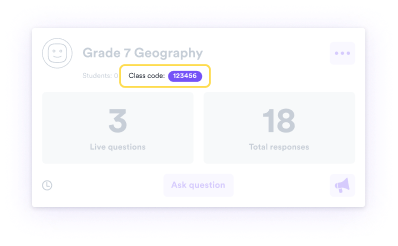 3. Invite students via email
If you have a list of student emails, you can copy and paste them into Ziplet to quickly send invites. Remember to follow up with students in class to ensure they accept the invitation.
Remove students from your class
In Classes, click the menu (top right of class card)


Click Mange members from the dropdown menu


‍

Click the three dots on the right of the student you wish to remove from the student section


‍

Click Remove Student